SkySilk has achieved Manifest Destiny! As SkySilk server locations continue to expand, New York VPS hosting has now been added to our list of available server locations. More data center locations provide more local support, meaning an improved user-end connection. With the addition of the New York VPS servers, users can now deploy their Linux VPS to the East Coast.
How can I deploy a New York VPS?
With recent version updates, all users can now deploy to the New York VPS cluster. Concurrently, all Linux VPS machines deployed to New York can be migrated to the live platform. Here's how to begin hosting your Linux VPS on the east coast.
Step 1: Make sure you have a SkySilk account
If you are already a member, then proceed to enter your login credentials. If you are not currently a SkySilk member, simply add your name and email address in order to sign and gain access to Linux VPS resources. You can find a sign up button below:
Step 2: Create a container and select New York VPS hosting
If you've already deployed a SkySilk VPS, then this step should be trivial. For new users, simply follow the instructions below, and you will then gain New York VPS access.
After this step is complete, create a container on your "VPS Dashboard" page.

You can now select one of the available plans, allowing you to deploy your Linux VPS. After you choose a plan, you will see two US VPS hosting icons for West Coast and East Coast options. Select "East Coast" for New York VPS hosting.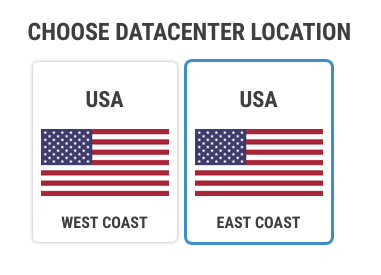 Choose to deploy your VPS in Downtown LA or New York City
Step 3: Select your template and deploy!
After you've selected "East Coast" you can explore over 40 Turnkey Linux apps, tools, and clean OS templates for Linux VPS deployment. SkySilk offers templates to suit anything from Linux OS distros to web hosting and development. You can even host game servers or discord bots! When you deploy a Linux VPS you are free to do anything you'd like, the possibilities are nearly endless!.

READ MORE: Advantages of Hosting Turnkey Linux Apps
Final points about East Coast VPS hosting
As stated previously, while SkySilk data centers are currently located in the US, this doesn't mean that users will be restricted to US VPS hosting. We encourage users from all parts of the world to explore our services for everything from web development to simple cloud storage. SkySilk has plans to continually offer more server locations as our platform grows.
ALSO RELATED – Cool things to do with your fresh New York Linux VPS:
New! – Launch an Ubuntu 18.04 LTS VPS in NYC!
How to Connect an Android App to a MySQL
Create a Blog Using Django and Python
(Visited 297 times, 2 visits today)