We recently kicked off our brand new User Spotlight opportunity, which is a way to showcase the unique, useful, and overall amazing things that are being built by our very own users. It comes with great honor to announce our first selection for the User Spotlight – Akira. Akira is described as a native Linux app for UI & UX design. Let's take a moment to notice some incredibly important keywords there – Linux and UI/UX. For any designer who uses Linux as their main OS but can't access a software suite like Adobe, this is absolute music to the ears. Without giving away too many fine details up front, let's dive more into what the future holds for Akira.
Akira: Linux Design Software for UI/UX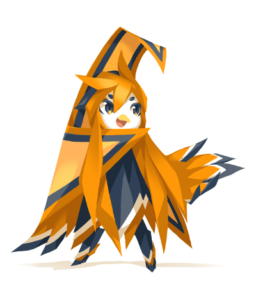 First and foremost it is important to note that Akira is still in early development. This means that the anticipated Linux design app isn't quite ready to be used but has already racked up over 1200 stars on GitHub and a dozen different contributors. However, you can follow the progress here, or even make a donation if you'd like. After all, having a Linux alternative to Adobe Illustrator would be quite useful.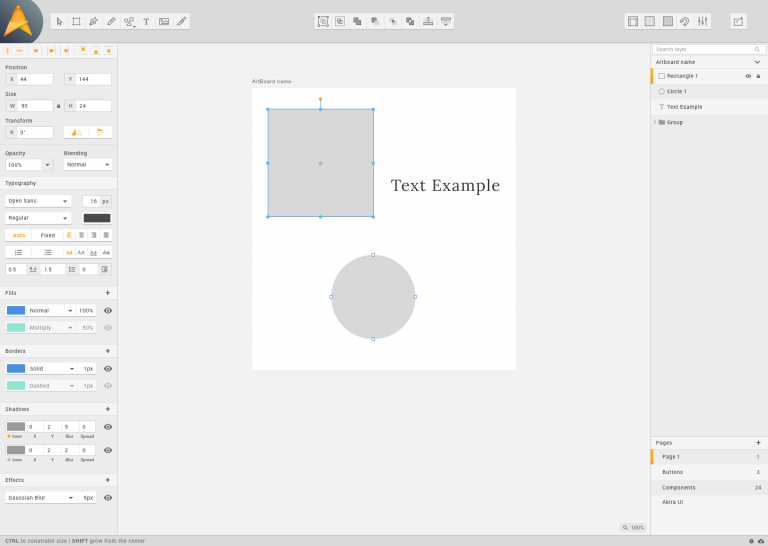 Akira: The puzzle piece for web developers and web designers using Linux
The main target of Akira is to become a suitable piece of software targeted towards web designers and graphic designers. Web design is certainly a unique branch of graphic design which implements a lot of aspects like wireframing, prototyping, icon creation and more. When a web designer is looking at Adobe products, it's typical to use photoshop for image manipulation and editing, whereas illustrator is great for things like wireframes which can be executed as an SVG.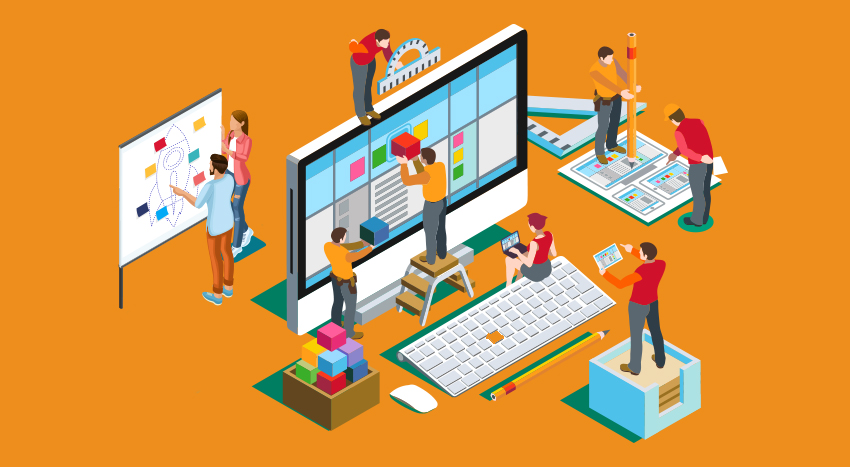 However, many web developers may also happen to fall into learning front-end design as well. As stated previously, another main goal of Alessandro's is to provide a "professional solution for designers who want to use Linux as their main OS". In other words, Akira is the perfect solution for developers and designers using Linux as their main OS.
It's said there are about 250 million PC's sold every year, and about 4.6 million of those run Linux. This is no number of users to ignore.
Given that Akira targets web design, it's sure to attract a variety of web developers. Many who are likely to be using Linux as their main OS. This is a niche market that simply which Akira does not ignore.
A simple and intuitive user interface
One thing that strikes us about Akira off the bat (and from gazing upon its UI mockup), is how you can tell it's truly created from the mind of a web designer. There aren't any confusing menus or extra features you don't particularly need when wireframing or prototyping a website.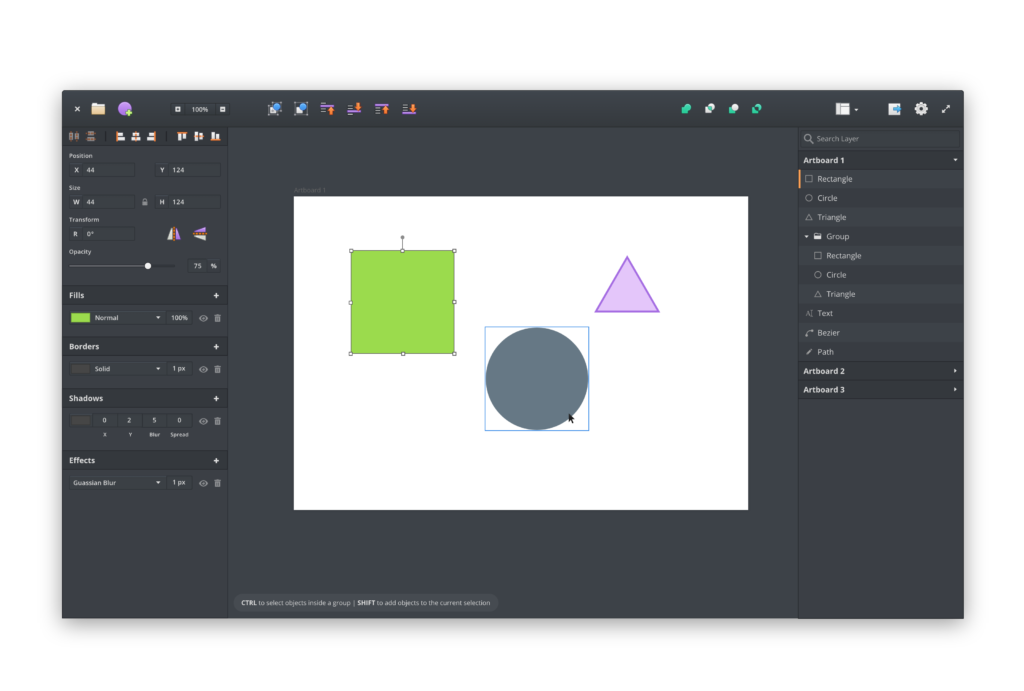 On the left hand are the priority tools for any web designer including font, opacity, transform, fills, borders, and of course, those lovely shadows. When you prototype a UI design these are the main points of focus. Akira's UI places these tools at your quick disposal.
So is Akira sort of like a Linux Illustrator?
Given that the app is still in early development, it's still too early to tell the direction the app will take. Although, as Alessandro himself describes, Akira aims to provide a professional UI UX design solution for Linux users.
For those that are unfamiliar, UI UX design is a common term within web, mobile, and software development. Well, I guess it could be classified as an extremely important aspect to just about any piece of software (and in many cases, hardware as well). Let's go over each abbreviation and their significance.
UI – User Interface
This one is quite self-explanatory. UI is the user interface – or in other words, what you see when running an application. This includes the overall design, colors, interactions, small little details which gives you that nice hit of dopamine when you tap or click on something.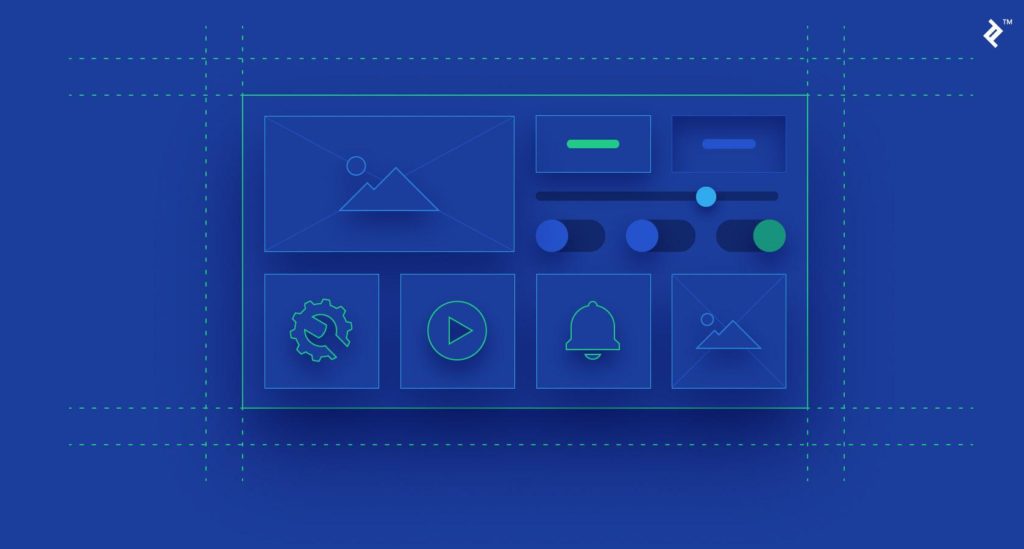 UI and UX are typically seen as a singular entity, however, they are very different in their functions.
UX – User Experience
The user experience, or UX, certainly includes UI. Although, the mechanics behind UI UX design exist on a separate level. Take a mobile app for example. The UX designer lays out the flow, where each button leads, which pages require certain functionality, etc. This is the network of an application and how it connects – like a freeway system if you will. The UI then builds off of the design flow and adds the extra layer of "prettiness" and interactivity to it.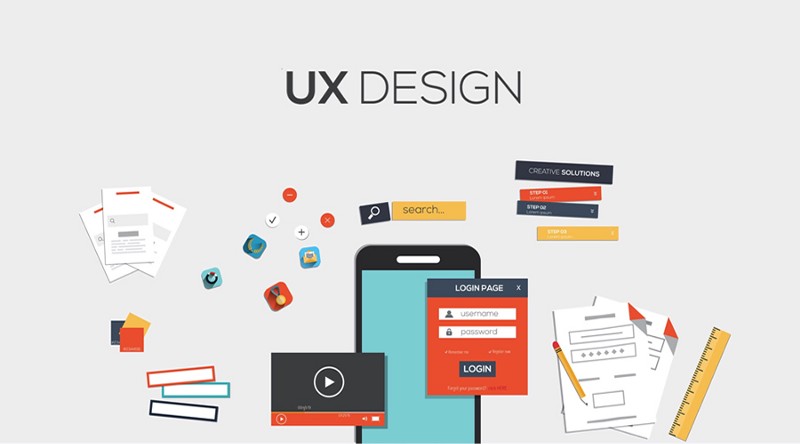 The two terms are quite easy to understand, but as you can see play very different roles in the process of development. This article on the 5 Big Differences between UX and UI Design describes the difference quite nicely – "UX Makes Interfaces Useful, UI Makes Interfaces Beautiful".
How does Akira fit into the UI/UX design category?
If you're a proprietary Linux user and also happen to be a designer, chances are you've noticed that popular software (namely, Adobe) aren't compatible on Linux. Now, there is a list of Linux design software that exists to cover much of the functionality you would truly need.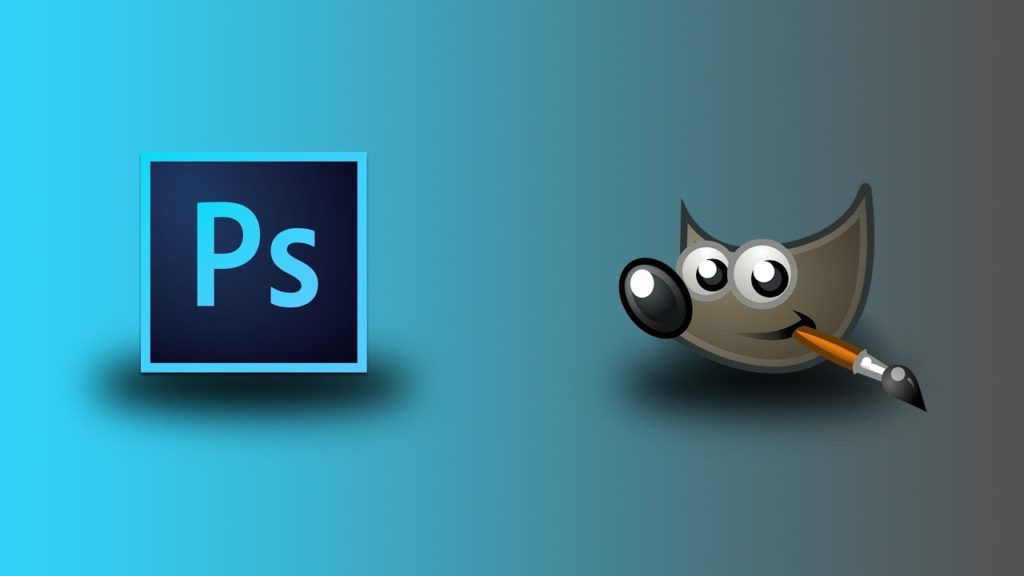 Raster editors vs. vector editors
One of these pieces of software which is compatible with Linux is GIMP. However, GIMP is traditionally compared to photoshop, mainly due to the reason of it being a raster editor.
A raster graphics editor allows you to create and edit images and is better for work with pixels. Vector editors, on the other hand, use mathematical equations to draw shapes, making it the typical choice for UI design. This is what makes Akira so important in providing the community with a Linux alternative to Adobe Illustrator.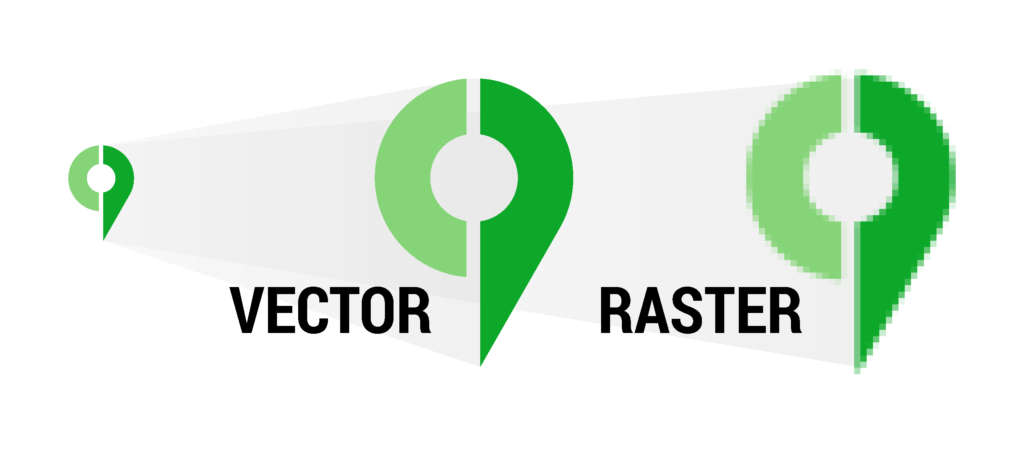 Raster and vector editors are fundamentally different software, and GIMP is a traditional raster editor. This isn't to say that UI/UX can't be done in photoshop. However, the available tools within a vector editor make this process much simpler and more streamlined for digital use. Vectors will scale no matter the size of your design due to its use of geometric calculations. Much like SVG format, this uses the same method of calculating the geometry of an illustration. These calculations effectively eliminate distortion no matter the size/scale.
Akira aims to provide a powerful Linux alternative to Adobe Illustrator, oh, and it's free.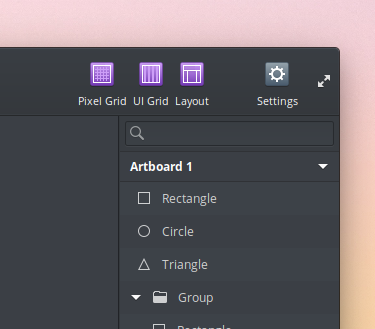 The headline above says it all. Akira is set to be completely free. As Alessandro himself puts it, there will be no hidden fees for upgrading or features locked behind any sort of paywall. You have the opportunity to make a donation to this forward-thinking project as well:
With the lack of truly powerful (and user-friendly) tools for UI design available on Linux, Akira is the answer to this lost commodity. The developer, Alessandro Castellani himself, stated that he wished to move exclusively to Linux OS from Mac OS. Being a developer and also a passionate designer, he aims to fill the gap when it comes to finding effective vector editor tools on Linux.
Use promo code "SKY95AKIRA" to save 95% off your first month. Offer is valid for new users only.
How can I submit my own project for the SkySilk User Spotlight?
You can easily submit your project here. All projects submitted will be considered at any time to be featured, this is not on a month-to-month basis.