Free. Cloud. Credits. By popular request from our user Discord server, we're introducing the new cloud credit matching feature on the SkySilk platform. The process is quite simple and you can earn yourself up to $200 in free VPS hosting credits and significantly reduce your cloud server cost.
Refill your account credit, and we'll match it 100%
This new promotion applies to both new and existing users (Additionally, any new signups will earn $100 in free cloud server credits for 60 days!).

With this new promotion, when you fund your account for the first time, we'll match it dollar for dollar, up to $200. Effectively, this gives you 50% off your cloud server hosting. Here's how you can get started to take advantage of this new free VPS rewards feature.
How to refill your cloud hosting account credit
1) Navigate to your Billing Settings page in your user profile or sign up for SkySilk using the button below.
Once you've made it into your Billing Settings page, you'll see a section labeled "Account Credits Available" on the right-hand side. Go ahead and select the "Refill Balance" button to begin the process.

2) Select a preset amount, or input a custom value to fill your balance and get free VPS hosting credits.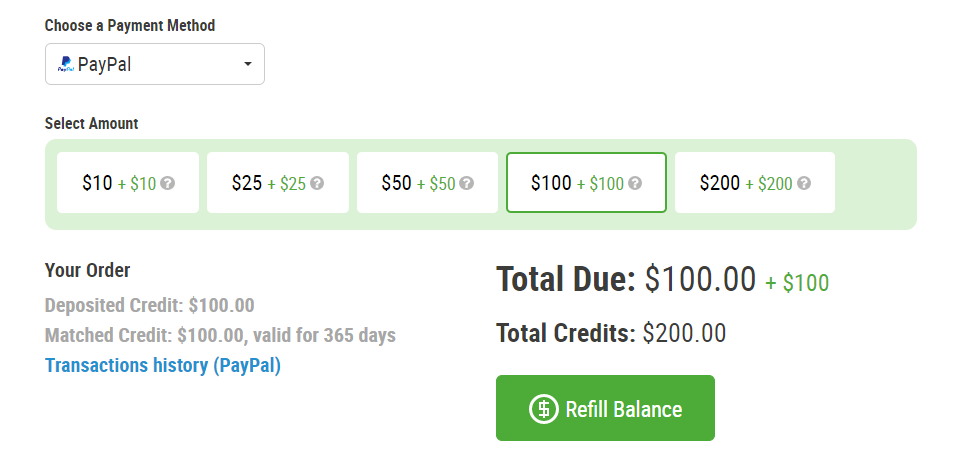 From this menu, you can choose a preset amount to fill your account credit with. Remember to keep in mind that the amount you select will be what SkySilk will match (up to $200).
After you confirm the balance you'd like to add, simply hit "Refill Balance" and let the platform work its magic.
Confirm receipt of your free cloud server credits
3) Look for a confirmation email of your matched cloud credits.
Once you've refilled your account credit, you will receive a confirmation email notifying you of the changes to your account, and the dollar amount you've chosen.

From here, navigate back to your Billing Settings page and your account credit will display the updated amount, including your free cloud server credits.
To further confirm that the account credit has processed and will be automatically applied to your next billing statement, scroll down the Billings page to the "Payment Methods" section and view "Account Credits Available".
In the case of this example, the account was refilled to $25.77, which matches the amount shown below (P.S. if you notice you have a SkyPoints balance, don't forget that you can convert these into account credits as well!)

Your matched credits will be available for 12 months after issuance.
Other ways to earn cloud credits with SkySilk: A Recap
Coinciding with refilling your account credit, there are still a number of other ways to reduce your cloud server cost. Let's reiterate on a few.

Referrals
Referrals allow you to share a special referral link via email or social media. This will grant your friends a $10 credit to start with. If your referee spends $50 within their first 12 months as a SkySilk member, you will earn 2500 SkyPoints (a $25.00 value). There is no limit to the number of times you can use your unique referral link.
Signups
Chances are if you aren't already a SkySilk member but have made it this far in the article, you may have some interest in exploring more of the SkySilk cloud platform. For a limited time, new signups will earn an additional $100 in free VPS hosting credits for 60 days. You can sign up here.
Join our Discord Server

We'd like to share a sense of community with our users. Because of this, we have a dedicated SkySilk Discord server where users can go to chat about their projects, get feedback, ask questions, or just hang out in a general chat with like-minded people.
Every so often we post offers/opportunities to earn additional SkyPoints which are exclusive to SkySilk Discord members. You can join our server using this link.
Follow SkySilk on Social Media
You can earn 100 points (each) for following SkySilk on both Facebook on Twitter.
READ MORE:
Deploy a Cloud Server in New York