When considering modern hosting applications it is important to know the subtle differences between the many options available to web developers and growing businesses today. Cloud Hosting vs. Web Hosting; what's the difference? These are good examples of similar hosting practices where it's important to know the pros and cons of each.
Cloud Hosting vs. Web Hosting
So, what are the major differences to consider when comparing Cloud Hosting and Web Hosting providers?
What is Web Hosting?
Web Hosting definition – Web hosting is when a website is hosted along with multiple other websites on a single physical server.
Because Multiple clients' websites are generally being hosted on the same server, they often share the same resources, like RAM, processing power, physical power, and are limited to a single OS/update model. Unless the web hosting is being done on a single pre-clustered machine, all of the websites on the physical server are reliant on that server's ability to operate efficiently.
What is Cloud Hosting?
Cloud Hosting definition – Cloud hosting is when a website is hosted on a fault-tolerant network of clustered servers that safely distributes user data in parts or copies across a secured network.
The user's data is distributed across the network in parts and multiple backups, so if one server should fail another server will pick up the workload, with minimal-to-no affect on the end user. The network of physical servers is oftentimes found in multiple locations to create better parity. That being said, single hyper-converged cloud appliances can serve the same purpose.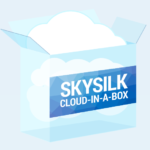 Resources are virtualized and distributed across the cloud network. Cloud hosting offers its users the ability to scale large workloads based on traffic, bandwidth, RAM usage, I/O, and many other parameters in order to suit the needs and budget of the developer.. Distributed resources and multiple servers also means better security, and the ability to offer Public Cloud, Hybrid Cloud, and Private Cloud environments on a project-by-project basis.
Cloud Hosting Offers Flexibility
It's no secret that cloud computing is on the rise, as 2016 proved to show many businesses trending towards cloud deployment. Where does the leave the great debate of cloud hosting vs. web hosting though? Cloud hosting offers flexibility and freedoms that traditional web hosting simply cannot:
Secured Data
Cloud hosting offers the ability to make sure your data is highly available and always ready to be served to an end user, despite the wildest of circumstances. Data is often distributed across multiple servers in different physical locations, as such data is not only protected from location based failures such as power-outages or earthquakes, but also from failure due to a single machine. This also means 24/7/365 on-prem data center security and physical lock-and-key access to each server rack.
Scalable Compute Resources
Cloud hosted sites aren't limited to a single machine's physical resources. Virtual resources can be scaled as needed to suit the needs of the site or application. For example, if a website or application receives a high amount of traffic during a specific time during the day, the cloud hosted environment can automatically scale up transfer speeds to account for the increase in traffic. Similarly, it can scale down when traffic dies down in order to not overcharge the customer for unnecessary resources.
Private Cloud Deployment
Traditional web hosting usually operates on the public environment model, in that multiple users or client's data is being hosted from one local machine. Should one user's data negatively affect the server, all of the other user's data is affected along with it. The public cloud model still exists. However in cloud hosting the hybrid cloud and private cloud models become much more feasible. Now an entire, single machine's worth of resources no longer needs to be allocated in order to create a secure private infrastructure.
Cloud Hosting Tools
Normally, web hosting involves a lot of setup and maintenance from the developer, these include OS installations and updates, template downloads, mySQL installations, WordPress deployments, etc.
Cloud hosting providers often offer a cloud platform under the PaaS (Platform as a Service) model. Cloud platforms come with pre-baked tools that allow developers to quickly spin up a large amount of virtual machines at one time. These virtual machines are available barebones similar to traditional web hosting, but they also offer pre-baked solutions such as built in:
OS LAMP stacks
WordPress templates
mySQL servers
and more, with all of the appropriate resources all ready to be deployed at the click of a button.
WRAP UP
When a comparison of Cloud Hosting vs. Web Hosting is being made, There are important distinctions and differences to consider when a comparison of Cloud Hosting vs. Web Hosting is being made. Cloud security, scalable compute resources, public vs. private deployment models, and flexibility/compatibility are all important areas to remember in order to chose the correct deployment model for your specific project.
If you are looking to try our version of Cloud Hosting, see below:
CLICK HERE TO TRY SKYSILK CLOUD PLATFORM! – For a Limited Time only.