Productivity is important, but with all the apps and tools calling out to your name, where do you even begin? Here are a few things to look out for: Great productivity tools help you streamline project management, create efficient time management habits and maximize team or client interactions. With that said, here are our top 10 productivity tools for 2020 to help you start your year with a bang!
We have taken the time to browse several different apps and tools that are great across the board. Whether you're a freelancer or have a full in-house team, all of these apps are great additions to your arsenal.
Use promo code "SKY95Tools" to save 95% off your first month. Offer is valid for new users only.
Airtable
Airtable is a powerful cloud-based app and tool that allows data and visuals to come together all in one platform. Its flexibility is attractive to users in every industry, from tech to film. With Airtable, you can easily create, organize, and collaborate in content creation or marketing.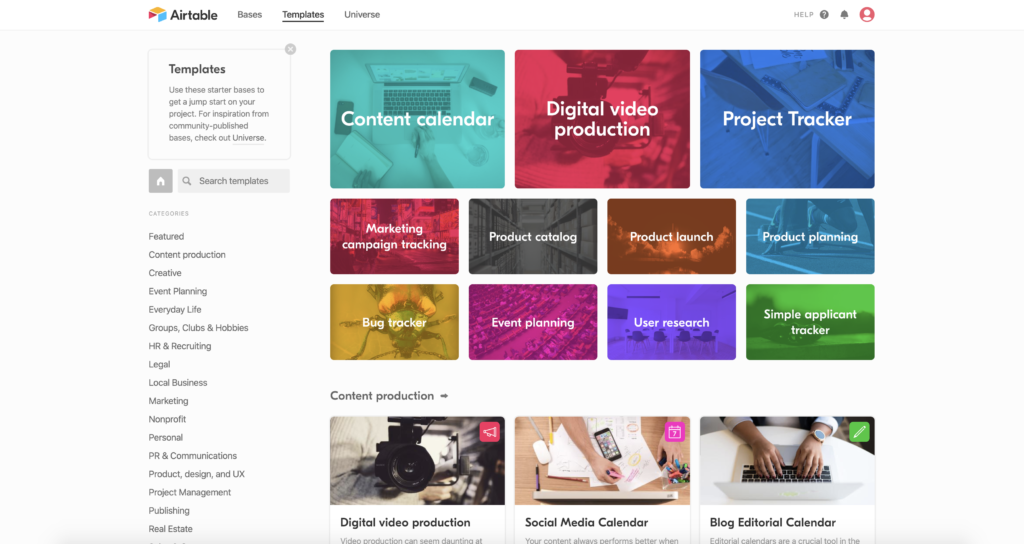 Features
Enter information in a database similar to spreadsheets
Customize field types
Color code fields and organize entries
Include attachments
Multiple app integrations with apps such as MailChimp, Zendesk, Google Drive, and more
Multiple views of one database such as grid, calendar, gallery and kanban
Create public views without giving full access to your workspace
G Suite
The cloud has several benefits aside from cloud storage. A great example of this is G Suite. G Suite shows how the cloud can provide great collaboration tools that allow you to seamlessly work with other people even outside of your team. G Suite has everything from google docs, google sheets, google drive, google slides and more.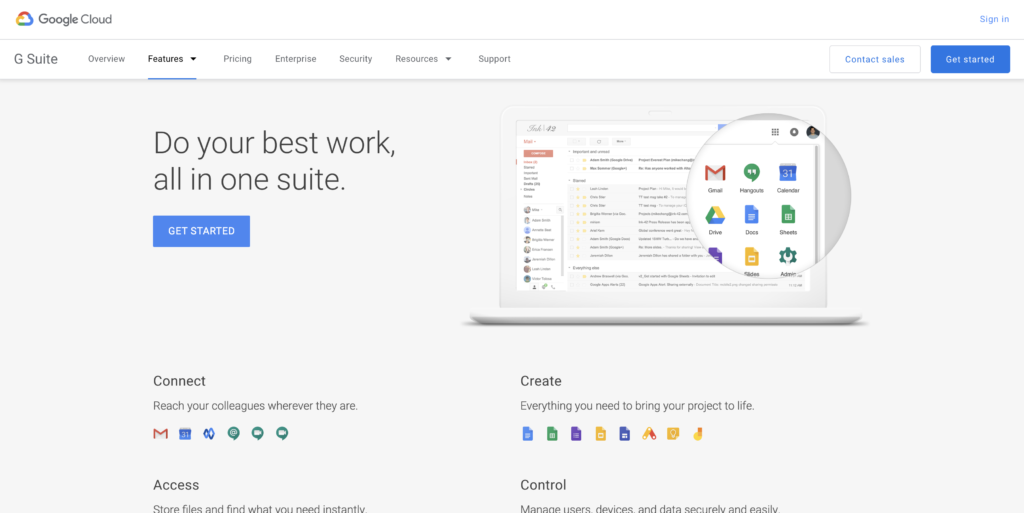 Features
Hold virtual meetings through Google meet
Collaborate and continue conversations online with Google chat
Share then edit google docs in edit or suggestions mode when collaborating
Nextcloud
Nextcloud is an open-source community of developers. Their design leans towards a minimalist look, making it easy to navigate whether you're on your desktop or mobile. Due to its open-source nature, Nextcloud gives its users full access to their own data while maintaining privacy and security, one of their core driving factors.
Pro tip: Nextcloud is also a great cloud storage solution or Dropbox alternative.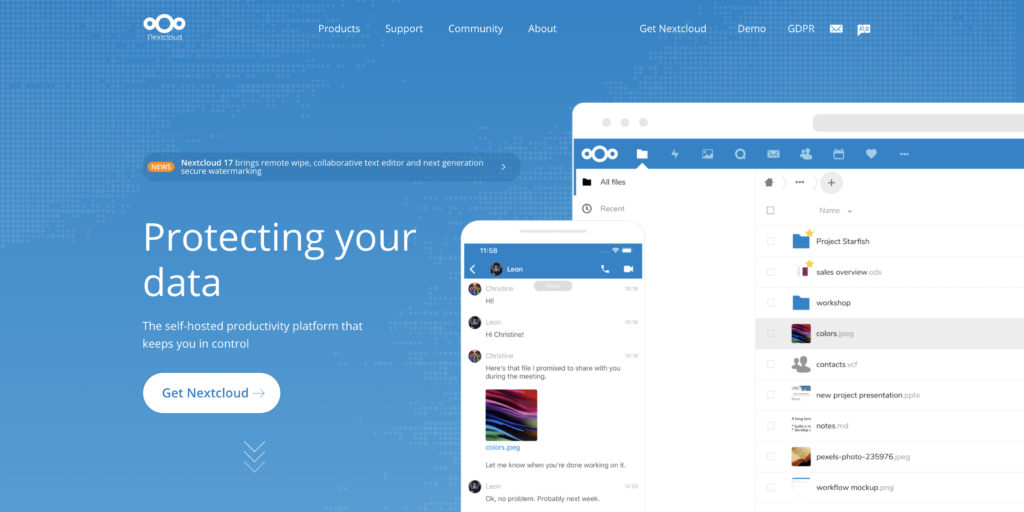 You can also run Nextcloud right here, on SkySilk. Run a self-hosted Nextcloud VPS with our one-click templates.
Features
Remote wipe, in the case that your device is stolen
Watermarked text both for public and internal shares
Self-host your files with the provider of your choice or a server you trust
Designed specifically for maximum efficiency and focus
Equal access between your desktop, iOS, and Android
Private audio and video calls
Nextcloud flow for efficient automated systems for easy collaboration
Slack
Slack is one of our team's favorite communication tools. Though we are a company primarily based in Los Angeles, there are parts of our team that work remotely. Clear communication is important to SkySilk, and slack allows us to do just that with proper work-life balance.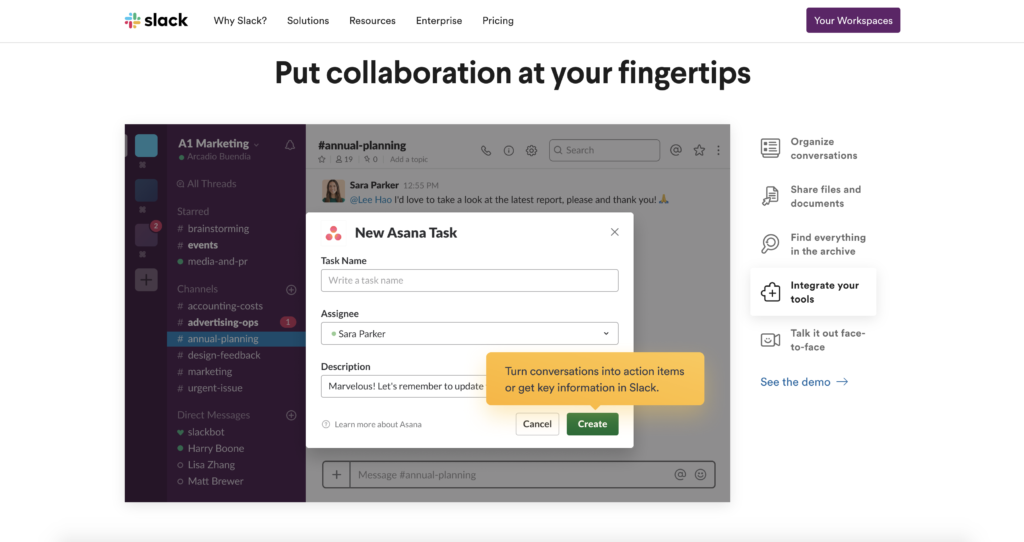 Features
Multiple channels
Customizable notifications for each member + DND settings
Integrations with some of the most popular apps such as Google Drive and Dropbox Paper
Set reminders for your team with a simple '/remind' command
Pin or star messages for quick access
Integrate with Giphy to make communication fun
A downloadable desktop and mobile app available
Zapier
Automation is one of the best tools you can use when running a business. It allows you to streamline your systems, such as administration work and maintenance. This way, you don't have to be the only one keeping an eye on it. Zapier allows you to focus on the important things as if you had your own virtual assistant!
Pro tip: You can even update your Slack status based on your location through Zapier.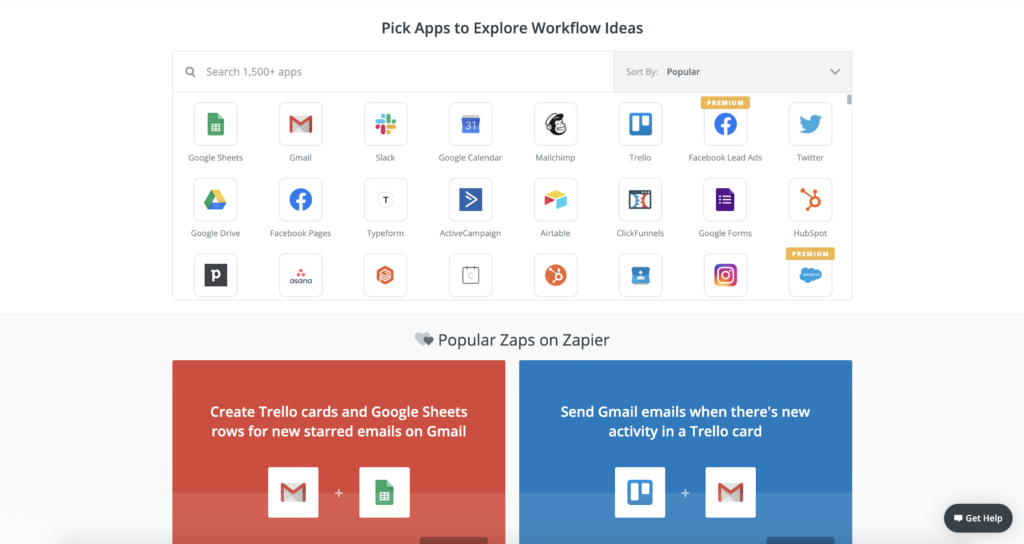 Features
Over 1,500 app integrations
User-friendly integrations without developer help
Trigger workflows from external apps
Quick updates while using in Zapier
100 free tasks to get you started with automation right away
Thrive Solo
Thrive Solo is a project management tool that allows you to keep track of the time you've spent on each project. You can even create milestones within each project! Freelancers who 'thrive solo' (pun intended) often find this perfect as a CRM, project management tool, time management, and invoice system that they can use all in one. Keep track of your prospects, current clients, and the projects they're attached to.
Pro tip: add the budget or your hourly rate and compare data, post-project, to see if you're charging enough based on the amount of time you spend on each project.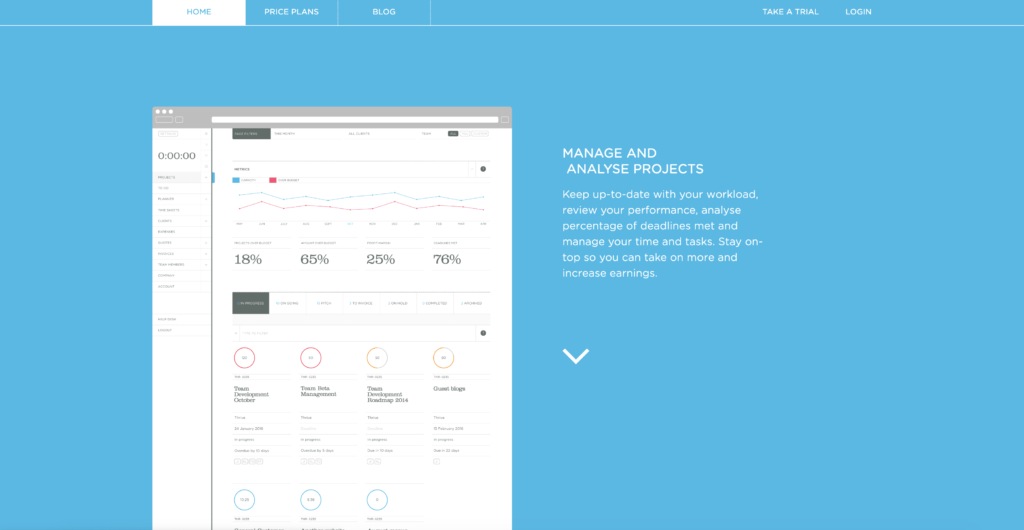 Features
In-app invoice system
Stripe integration to make payments easier for your clients
Send quotes to potential clients directly from Thrive
Milestones for each project properly tracking each part of the process
All around task list within the app
Efficient time management tools
Manage and keep track of business expenses
Client rating system to determine how much you enjoyed working with them along with profitability (clients should be rated as well, right?!)
SEM Rush
SEM Rush is an amazing desktop tool for all-around marketing. With one program, you can schedule your social media posts, optimize your website, research keywords for SEO, track competitors, and find the best topics to write about for your content.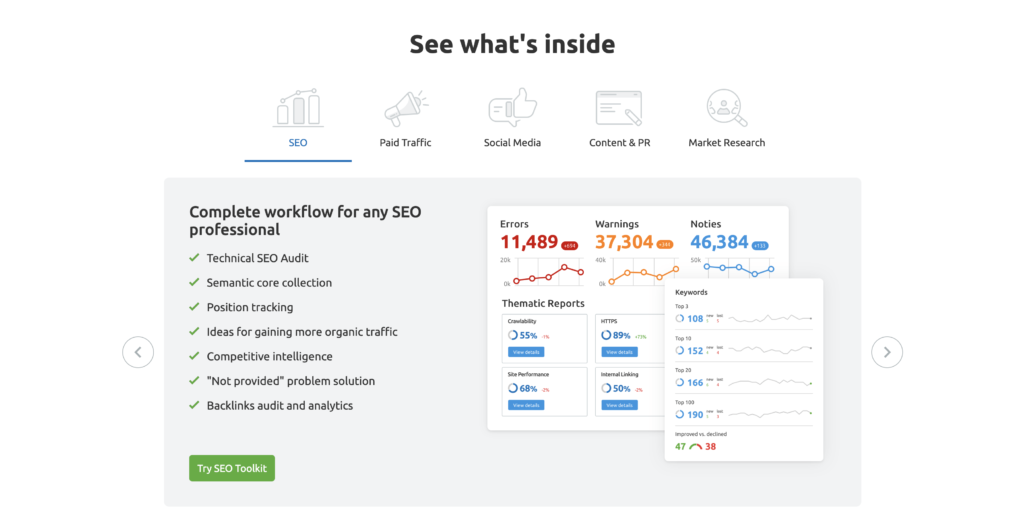 Features
Full analytics report
Content marketing and social media toolkit all in one
Track and research competitors
Properly plan your SEO strategy with SEO writing assistant
Manage and analyze keywords
Share and schedule branded reports
Canva
Web and graphic design is a huge part of every business. Because of this, Canva makes it easy to create design even while you're on the go. Canva is a user-friendly tool that has templates for everything including Facebook banners, Twitter images, Pinterest, A4 documents, presentations, posters, pdf documents and more.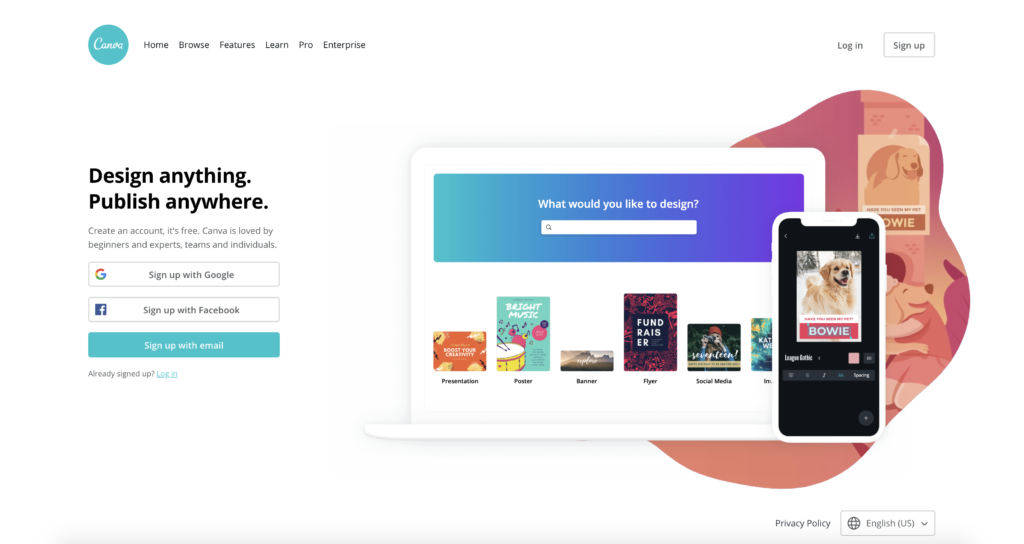 Features
A full library filled with fonts, illustrations, stock photos, videos, and more
Customizable branding for you and your business
Use layers to add text and elements onto your photos
Create animated designs for social media
Palette generator directly in Canva
Upload your own design elements or photos to work with
HourStack
HourStack is a simple alternative to Thrive Solo for those who don't need an invoice system. This app is different from Thrive Solo in the sense that it is purely for time tracking and time budgeting. Hourstack is a great time management tool, allowing you to clearly visualize how you spend your time and what you can do to maximize every hour of your day. With Hourstack, you can integrate Trello, Asana, your calendar and more, to better keep track of your workday.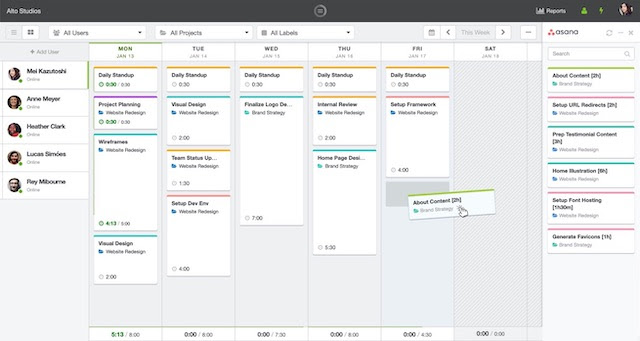 Features
Quickly import projects and notes from external task sources
Drag and drop your schedule to block out time
Easily re-organize time entries
Grant custom permissions for your team to maximize a united workflow
Export data to excel, CSV, or pdf
Save reports and data segments into templates
Video tutorials to help you get started within the website
Hello Sign
Nothing is worse than starting the project just to find out in the middle of it that there's been some misunderstanding with each party's terms. Therefore, it's important for every freelancer and business owner to protect themselves. Hello Sign makes it easy for any business owner or freelancer to quickly send your terms and agreement prior to moving forward with any project.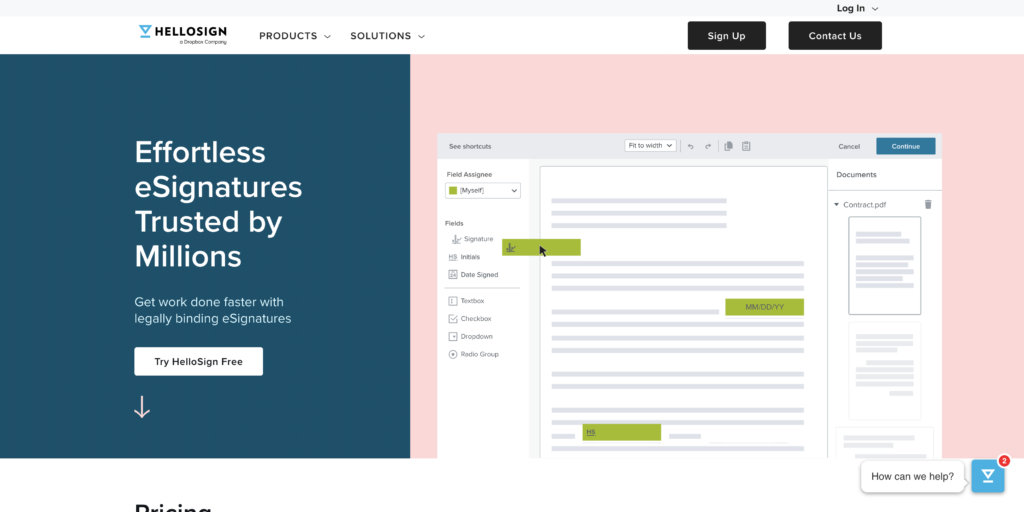 Features
Electronically sign documents and send them to your recipients right away
Request signatures from up to 20 people with ease
SSL Encryption during file transit for high security
Integrates with G Suite, Google Drive, Gmail, Dropbox, and Salesforce
Supports 17 different file formats such as pdf, excel, or Microsoft PowerPoint
Status notifications for every part of the process so you know when your document is being reviewed or has been signed
Conclusion
Overall, there are hundreds of productivity tools out there. These are just the top 10 productivity tools we've enjoyed thus far. Maximizing the features of each of the productivity tools above help you streamline your solo or team workflow. Therefore, making the most of every client interaction.
What other productivity tools do you enjoy and recommend using?

Use promo code "SKY95Tools" to save 95% off your first month. Offer is valid for new users only.