Since its inception, SkySilk has been committed to creating a cloud platform designed around simplicity. Within the notion of simplicity, we've always strived to produce easier access to the cloud whether it be lower costs of entry, providing pre-configured server templates, or even a user-focused Discord server. Now we're proud to introduce the latest advancement of the SkySilk cloud platform; Complete VPS mobile management. It comes with great pleasure to announce that the SkySilk mobile cloud app is now available on both iOS and Android!
An all-in-one VPS mobile app
Since going live in early September 2018, the idea of bringing SkySilk to mobile has been a prevalent idea throughout our community. A majority of those who deploy servers continue to access them from an external SSH client, without having to come back to their host's website directly.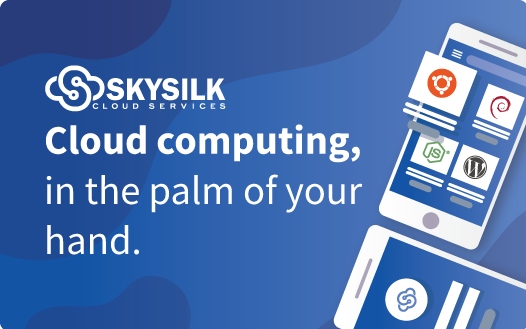 Due to this, we sought to find an easier solution to stay connected to the cloud. This inevitably led to the introduction of the SkySilk mobile cloud app. Here are a few features designed to access your virtual cloud servers from mobile.
Download the SkySilk App for Free
Main Features of the SkySilk Mobile Cloud App
1) Server deployments from the palm of your hand
Contrary to a majority of prominent VPS hosting companies, SkySilk is one of the few, if not the only to offer Linux server deployments directly through a mobile cloud app. Now, it is true that it's rare to see a large chunk of DevOps work done through a mobile device. However, the purpose of the mobile app is not to replace the reign of the desktop or laptop when it comes to cloud computing or managing servers. Rather the goal is to offer SkySilk users a VPS mobile experience. One that is both a quicker avenue to access, manage, and deploy servers, as well as offering the ability to control and scale their machines on-the-go.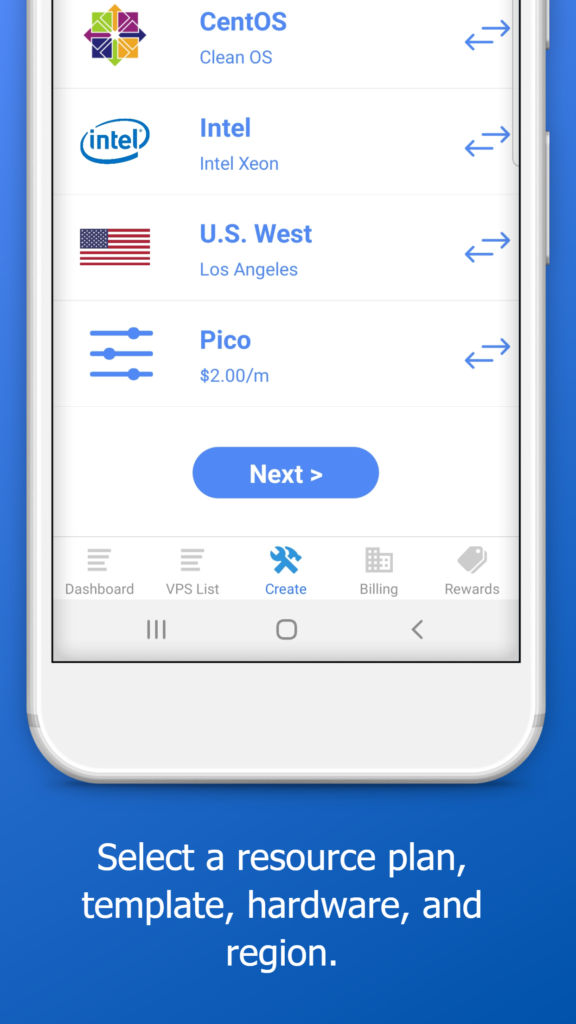 The steps to deployment on the mobile cloud app are mirrored to the front end on the web platform:
Choose a class
Select a Linux template, VPN, framework, software stack, or anything to suit your needs
Intel and/or AMD hardware
Server region
and last but certainly not least, your resource plan
All of the currently-available one-click templates are included within the mobile cloud app. This list includes CentOS, Ubuntu, Node.js, WordPress, and more. Additionally, the pricing is identical to that of the web platform and will always reflect any sale price.
Download the SkySilk App for Free
2) Monitor VPS Usage in Real-Time
Tapping into the VPS mobile list will show an array of your servers along with graphs indicating the current usage of your running machines.
These graphs will show resource usage for:
CPU usage,
RAM
and SSD/NVMe Storage
in order to give insight towards important information coming from your cloud environments without having to look through each machine individually. Staying updated on virtual server metrics is an important aspect of keeping any cloud environment running flawlessly.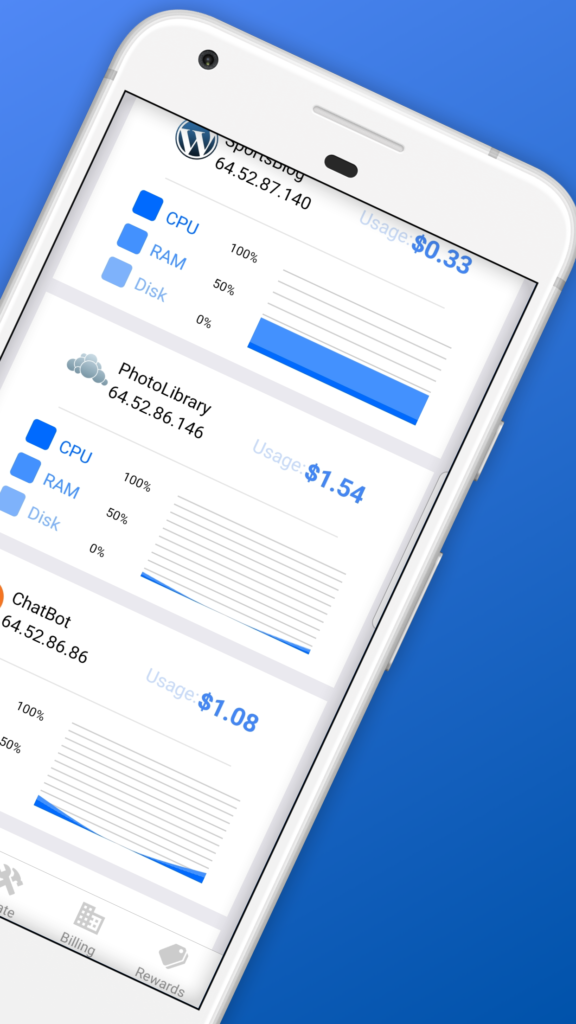 Any issues that would arise from situations involving high CPU usage or other resources being maxed out, can be easily met when having the monitoring available to you from your own pocket. Going off of this notion, if there is ever a situation in which you need to scale or reconfigure any single VPS, a full overview page of individual servers is included.
Tapping into any VM from the list will show the current resources, backups, and options to scale or boost your VPS.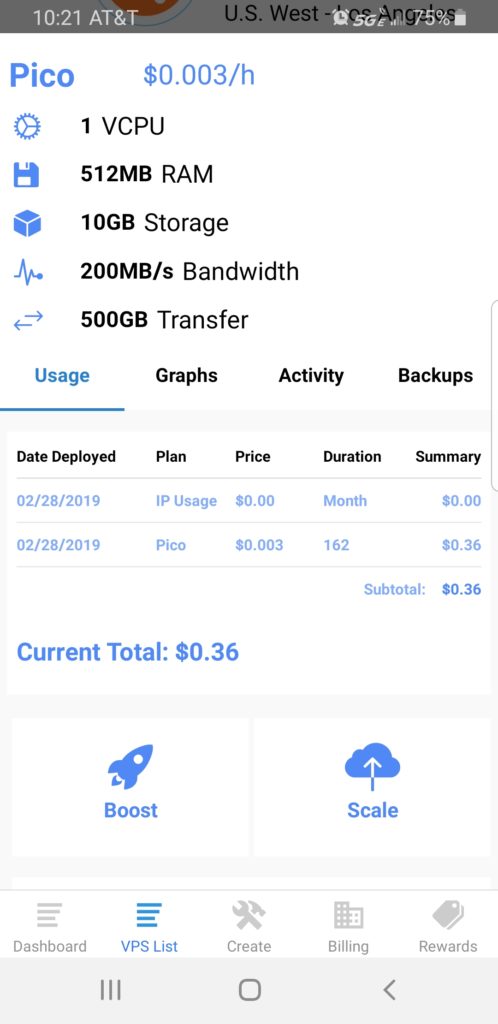 You can control individual servers in the mobile cloud app with the commands listed below and shown in the image above:
Restart
Stop
Boost
Scale
Shutdown
Delete/Destroy
Manual Backups & Snapshots
Another widely-used feature when it comes to self-hosting is the ability to take manual snapshots and create backups as well. The machine page (as shown above) also includes the feature to create manual backups & snapshots in order to keep your data secure or revert back to a previous state.
Download the SkySilk App for Free
3) Mobile VPS dashboard to provide quick insight into your cloud servers
Say you're running a game host, cloud database, or even just a WordPress site and you need to check the status of your SkySilk account. The dashboard will provide metrics for:
Total monthly spend (to date)
Projected monthly spend
SkyPoints balance
Account credit balance
In addition, you can see how many servers are currently running, off, and/or deleted without having to log in to the web-based dashboard.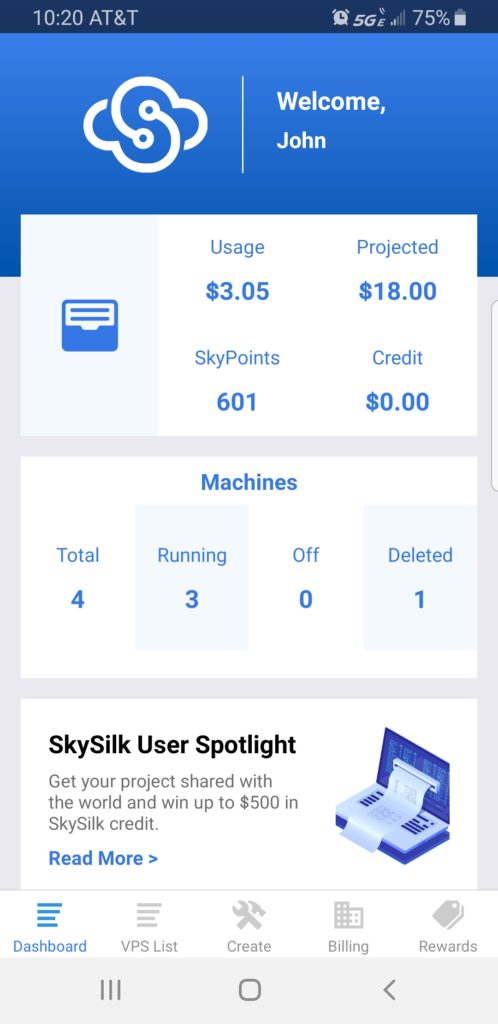 We'll also keep the dashboard updated with the latest initiatives from SkySilk as well. Currently, you'll find a card explaining the SkySilk User Spotlight – a showcase of user-made apps being built, hosted, and developed by our very own community.
Download the SkySilk App for Free
4) SkySilk Rewards
In an effort to give back to the community, a unique aspect to SkySilk is the "SkyPoints" rewards program. This essentially acts as a loyalty rewards system in which you earn SkyPoints on every transaction. You can then apply SkyPoints toward account credit and/or select pre-paid gift cards. So how does this play into the mobile app?

The mobile app also contains full functionality which supports the SkyPoints system. You can redeem and convert SkyPoints into account credit to use towards monthly statements and/or select pre-paid gift cards.

When it comes to earning rewards points through the mobile app, its identical to that of the web platform. For review, Standard-tier plans you earn 1x SkyPoints for every dollar spent, wherein Premium offerings you earn 10x SkyPoints (effectively, 10% back). However, similar to our user Discord server, there will also be times to grab mobile-app-exclusive reward opportunities and earn extra SkyPoints!
How do I download the SkySilk VPS mobile app?
As stated previously, the mobile app is available for both iOS and Android operating systems. The mobile cloud app is completely free to download and there are no additional or hidden costs in using it. The only pre-requisite is that you already have a valid SkySilk account.
If you don't already have a SkySilk account, you can sign up with just an email here:
Otherwise, you can find a download based on your specific device here:
Download the SkySilk App for Free
Use promo code "SKY95MOBILE" to save 95% off your first month. Offer is valid for new users only.