Grand View Research predicts that by 2026, the worldwide cloud gaming industry volume will hit $7.24 billion USD. It's expected to report a perennial increase average of 48.2% within the next six years.
Advancements in cloud innovation facilitate the fast deployment of gaming configurations in the cloud. Cloud innovation not only provides users with a remote connection to collective games but also supports live streaming.
Supporting both mobile and standalone gadgets, the cloud operates high-definition games with low computing power. 
Source: https://www.researchgate.net/publication/306006176_A_Survey_on_Cloud_Gaming_Future_of_Computer_Games
The Breakdown
Cloud gaming is an advanced method where computationally sophisticated computer games are distributed to consumers through robust cloud networked servers. Cloud servers in single or multiple data centers host cloud gaming platforms.
A cloud gaming platform operates computer games which can be categorized into two:
Game logic – tasked with converting in-game commands into the interplay
Scene render – sets up game scenery in real-time
Towards the end of the 2000s, cloud gaming startups sprung up from the likes of G-cluster, OnLive, and Ubitus. Strategy Analytics report in 2014 indicated, "a rise in the figures of cloud gaming consumers from 30 million to 160 million between 2014 and 2015." Why is the market on a sharp rise? Keep reading!
Factors Propelling the Cloud Gaming Industry Growth
The mass adoption of cloud gaming is likely credited to the benefits to gamers, developers, and cloud service providers.
Benefits to gamers include:
Access to a plethora of games around the world, at any time at competitive prices
Ease of buying or renting popular games
Exclusive features like live streaming or reruns with colleagues and seamless client computer migration
Benefits to developers include:
Focusing on a single platform that decreases the changing of instructions while simultaneously testing charges
Sidestepping brokers for greater profit margins
Wider gamer audience outreach
Preventing piracy as the game software is ONLY accessible remotely and NEVER downloaded
Benefits to cloud service providers include:
Opening doors to new client opportunities and models
Creating additional appeal for previously-deployed cloud resources
Showing promise for new remotely rendered apps
Other Factors Pivoting the Growth of the Cloud Gaming Market
Advancement and increasing financing in 5G networks and technology – this will not only facilitate faster internet speeds but also reliable connectivity.
Major market movers concentrating on cooperation, consolidation, and acquisition strategies have the sole aim of staying competitive in the industry. For example, in March 2020, Tencent and Huawei Technologies Co., Ltd signed a cooperation deal to establish a facility. The facility will develop GameMatrix in China which will be a cloud platform. 
The Stats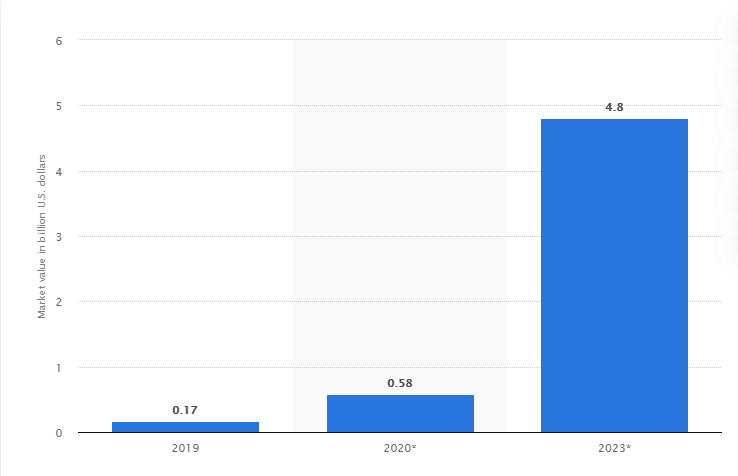 In 2020, 91% of the gaming industry revenue was digital. According to the Global Games Market Report, the market spending will exceed $200 billion by 2023. In the same year, revenue for the global e-sports gaming industry is expected to reach 1.6 billion USD.
Revenue from games and interactive media grew by 12% totaling USD 139.9 billion in 2020 compared to USD 120.1 billion in 2019. This growth came about as many industries shrunk, due to the pandemic
Future Outlook
There is much promise for growth in the cloud gaming realm. The question remains, how effective will cloud technology be with regards to the efficiency of high-resource games? Time will tell.
But the future is bright. Key industry players are the ones that MUST ensure growth continues to keep pace with innovations that are yet to come.