You are indeed reading that headline correctly! We, over at SkySilk Cloud Services, have decided to take a swing at bringing our community some easy to digest live stream video content to go alongside our growing solutions portal. We plan to explore topics in the information technology world. Join SkySilk as we embark on this Twitch live stream adventure together.
What You Can Expect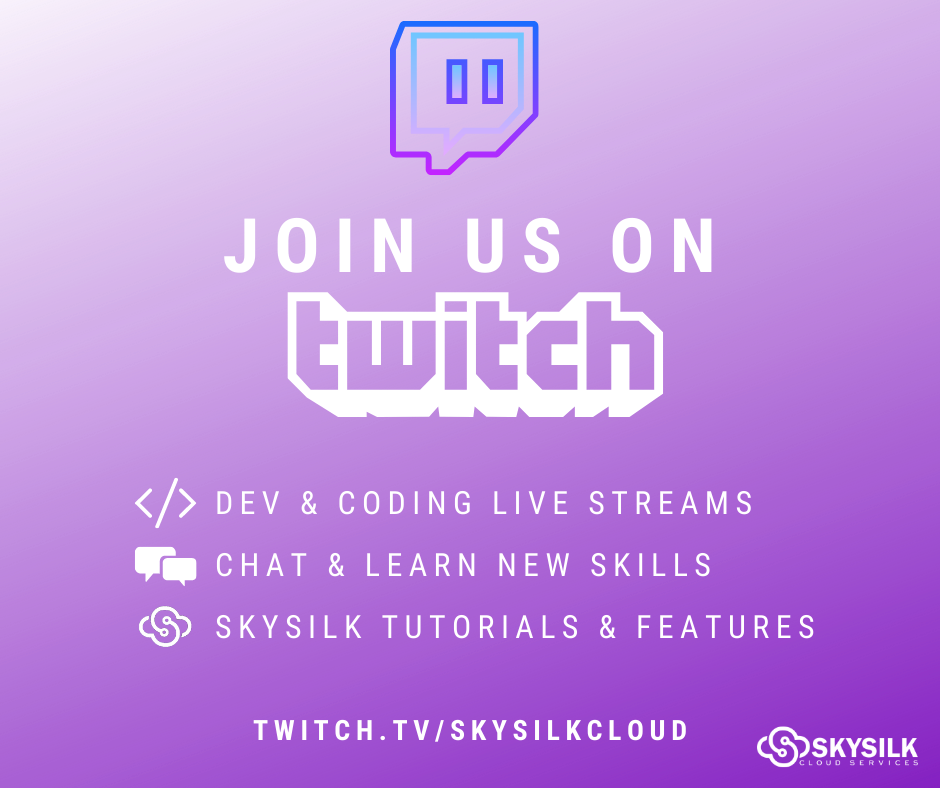 To us, going live on Twitch is an opportunity to connect even more with our community. Therefore, you can expect live stream coding tutorials and announcements on other features with SkySilk and any upcoming guests. This will be a great time to chat with us so we can get to know you!
Join SkySilk As A Guest on Twitch
Are you an aspiring video content creator who would like to join our Twitch live streams as a guest and share your skills with the world? We'd love to have you aboard! We invite all Coders & Developers, System Administrators, Network Administrators, and anything in between to fill out our contact form and provide some brief details about what you'd like to discuss or share. Are you interested in presenting an idea or theory, or do you want to teach the viewers how to set-up your application?
To sweeten the deal, if you have any written content that you would like to submit as part of our Featured User Spotlight program, be sure to check that out over here
You can even have your own unique landing page on our website!
To see an example, check our demo page here
To start off on the right foot, check out our info page located here. When we've had a chance to review, we'll be in touch!
Read more: How To Install And Setup Ghost On Ubuntu
What Would You Like to See on the Livestream
Are there any specific topics that you would like to see us explore live on Twitch? Are there specific coding tutorials you'd like to be a part of? How about exploring a new Linux distro, setting up an Apache web-server, or creating new Linux users? You name it. We welcome all idea submissions and coding tutorial suggestions and will refer back to them when deciding the content for upcoming streams!
See you on the next Live Stream on Twitch!
Don't miss out on the chance to have your question explored live on stream